UK's Derbyshire Constabulary Selects LiveU for Live Video Capture With its Drone Teams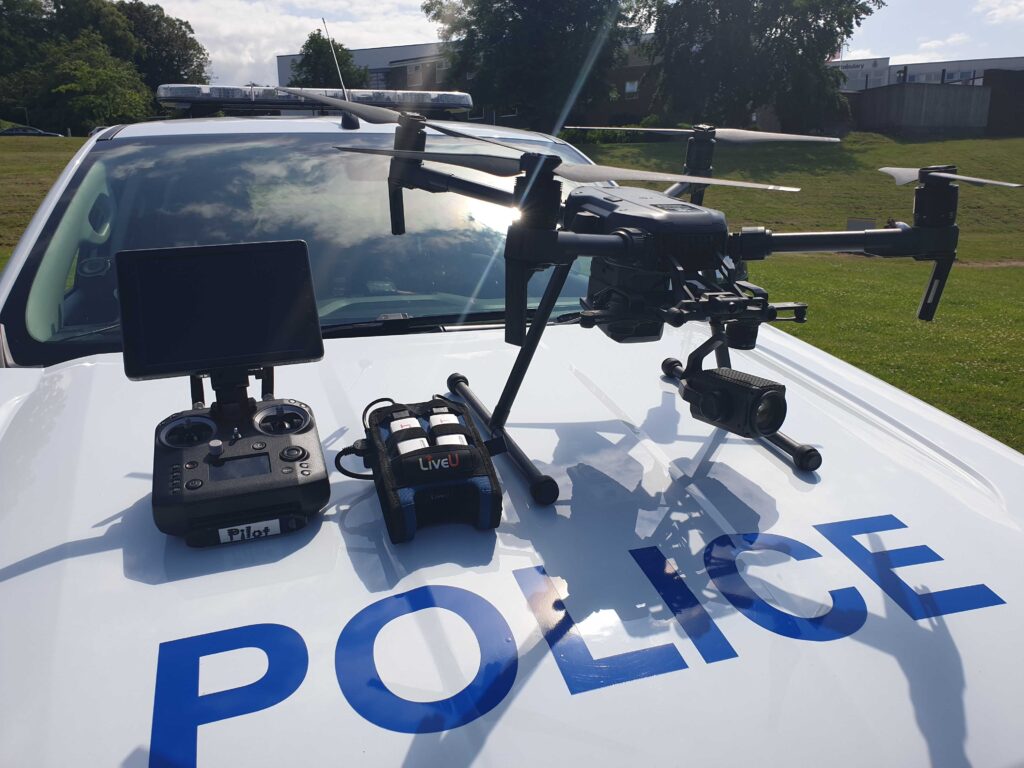 Derbyshire Constabulary upgrades its live video capture technology with LiveU to increase speed-of-deployment and flexibility
rking with UK LiveU partner Garland Partners, Derbyshire Constabulary has deployed LiveU cellular bonding technology in order to be able to increase its use of live video for information and evidence gathering as well as surveillance.
Derbyshire Constabulary, one of 45 forces across the UK, has trained 28 officers as drone pilots and operates 16 drones in total. Last year, they started to use live video feeds to capture footage from events and found this immediately hugely beneficial. However, because of the complex way they had to stream – using a combination of laptop, dongle, 4G and Skype – the technology could only be used for planned events, not spontaneously.
Thomas Gee, PC and drone operator with Derbyshire Constabulary, said, "With LiveU it's the ease of use that immediately stands out as well as the reliability of the signal. It's such a compact piece of technology and for spontaneous deployment it's literally the press of a button to start streaming. We can attach it to our belt so we can be fully mobile while we're operating the kit. The signal from the drone and LiveU unit is received in our control room by a LiveU server and then it's fed into an IP distribution system. This means commanders, wherever they are, can see the footage, helping the accuracy and timing of our responses."
Bronze level commanders work onsite; silver level generally in the control room where the live video is initially received; and the gold level commander can view the video remotely.
The recent Whaley Bridge dam incident in Derbyshire provided a prime example of the power of live video and the flexibility and reliability of using LiveU. Gee said, "With the Whaley Bridge situation, we used it primarily for an up-to-date stream of the damage to the dam without anybody being put in danger. We could see, up close, what the damage was, where the water was coming through, with that feed seen by our Commanders, the Fire Service and the Environment Agency. That footage informed all their decisions. We used it a great deal, especially the first day to monitor the damage. We were then onsite, 24/7, for any requests for coverage. We also kept an eye on the village as part of the evacuation process. Then we had a Chinook helicopter coming in to drop the material required to shore up the dam and could inspect what effect that drop had on the situation. The support from Garland Partners has been invaluable too."
Matt Stringer, Sales Manager with Garland, said, "We have worked closely with Derbyshire Constabulary to understand what they want to be able to do and the limitations of their previous technology. The value of live video to the police – and to the other agencies with whom they work – is huge. Using LiveU is clearly a major advance for them and we believe that this, in many ways, is the tip of the iceberg."