FIA World Rally Championship Brings Fresh Dynamism to its Live Coverage with LiveU HEVC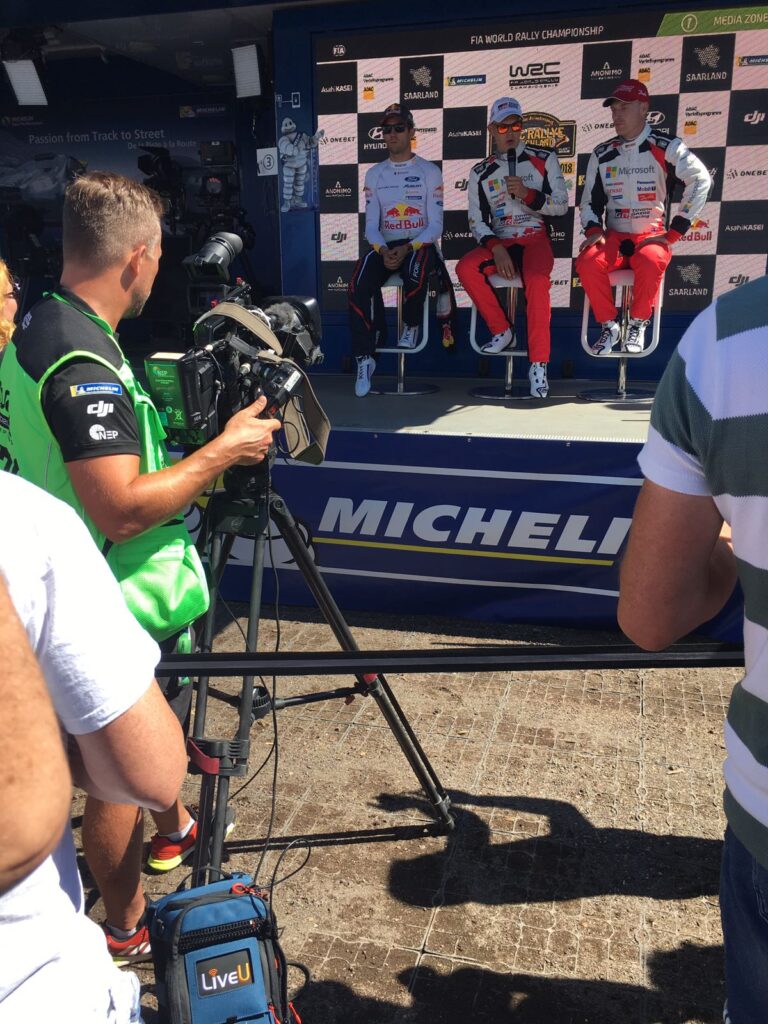 WRC Promoter deploys LiveU's HEVC cellular technology, replacing satellite and RF to cover World Rally Championship events
WRC Promoter GmbH, the company that's responsible for all commercial aspects of the FIA World Rally Championship, has for the first time used LiveU technology to help bring a fresh approach to its rally coverage. LiveU's LU600 HEVC solution was used at the recent ADAC Rallye Deutschland in Germany, which took place over four days, for transmitting live footage from different stages of the rally, interviews in the service park, and file transfer from the field. The LiveU units were controlled and monitored remotely via the LiveU Central management platform by WRC TV personnel.
The World Rally Championship (WRC), recognized by the Fédération Internationale de l'Automobile (FIA), has a long and celebrated history, with 13 rallies around the world forming the 2018 series. WRC Promoter handles all the TV production, including all the broadcast formats, as well as the marketing of the series and sponsorship rights. It also works to increase the number of participants and explores new venues for the calendar.
Up until now, they have mainly relied on satellite and RF to cover the events around the world, with stages spread up to 250 km around the Service Park at each rally and relied on motorbikes to deliver material from the field to the studio. They have been looking at ways to further increase the flexibility and dynamism of their coverage and to do so cost-effectively.
Based on industry recommendations and their own tests, the company turned to LiveU and its HEVC cellular technology, using it for the first time in Germany, working in HD.
Florian Ruth, Director of Content and Production, WRC Promoter, said, "Using LiveU allows us to think about covering the World Rally Championship in a different way. It enables us to work in areas we have never been able to in the past as we have always had to think about transport and delivery of the produced footage. With LiveU we don't need any exit routes from our stage positions anymore. Also, we don't have to shuttle memory cards back and forth with helicopters or couriers as all this can be done by LiveU."
The key requirements are mobility along with signal robustness, which LiveU provides. Ruth added, "The WRC is one of the world's most challenging outdoor productions, taking place all over the world with each rally spread over four days with about 300km of competitive action and 1000km of driving in-between stages. LiveU is the ideal solution."
WRC Promoter is now looking to expand its use of LiveU technology next season, with Ruth also expressing how happy they are with the professionalism of the service provided.
Zion Eilam, Regional VP Sales (EMEA), LiveU, said, "Each WRC event is a major production, and our HEVC technology and LiveU workflow, as WRC Promoter recognizes, is ideal for the way they need to work. This has been a tremendous year for us across the sports sector and we're really excited to be working with the FIA World Rally Championship."
See the video highlights: https://youtu.be/CDlPYDO6Xrw
About LiveU
LiveU is driving the live video revolution, providing live video streaming for TV, mobile, online and social media. Let your audience become part of your story with high-quality and flawless live video, transmitted from anywhere in the world, through the use of our patented bonding and video transport technology. LiveU creates a consistent bandwidth and a reliable connection so you can acquire, manage and distribute high-quality remote live broadcasts over IP. Our broad portfolio of products sets the industry standard for live video production. From backpacks to smartphones, and satellite/cellular hybrid to external antenna solutions, LiveU offers a complete range of devices for live video coverage anytime, anywhere. In addition, LiveU offers extensive cloud-based management and video distribution solutions. With over 3,000 customers in 100+ countries, LiveU's technology is the solution of choice for global broadcasters, online media, news agencies, and social media. For more information, visit www.liveu.tv, or follow us on Twitter, Facebook, YouTube, LinkedIn, or Instagram.