LiveU in Politics
Traditionally, political events such as elections and protests were covered from stationary lives – using satellite dishes, often from only a few locations. As LiveU's technology developed into the robust reliable equipment that we supply today, broadcasters have been able to depend on our cellular field units as the main feed for bigger and more elaborate coverage plans. Now broadcasters are using LiveU solutions to broadcast innovative live coverage.
This past November, protesters in the Maldives took to the streets to demand the release of their jailed former president, Mohamed Nasheed. As demonstrations intensified, police attempted to quell the protestors with pepper spray, resulting in violent clashes between the demonstrators and the police force.
Often during intense scenes such as these, broadcasters using traditional bulky equipment are forced to set up static live coverage as close by as possible to the location of the actual event. However, those using equipment with high mobility are able to report directly from the scene, bringing back the most up-to-date and relevant information to their viewers.
LiveU client, RaajjeTV, used an LU-Smart on a telescopic monopod to get into the heart of the action. Ahmed Fairooz, the reporter capturing this event said "This is a very different experience. Talking in front of a camera and talking to a phone is very different, the first time I was also nervous to use it but as I used it more I got more comfortable, and very happy to be the first person to use this technology in the Maldives". Ismail Jinah, RaajjeTV's Chief Technical Officer was very happy with their coverage and their ongoing use of cutting edge technology, saying "RaajjeTV always want our audience to witness the new technologies in the broadcasting field; we were the first station to use live streaming via 3G with LiveU in 2011, and we will continue introducing new technologies to the Maldives".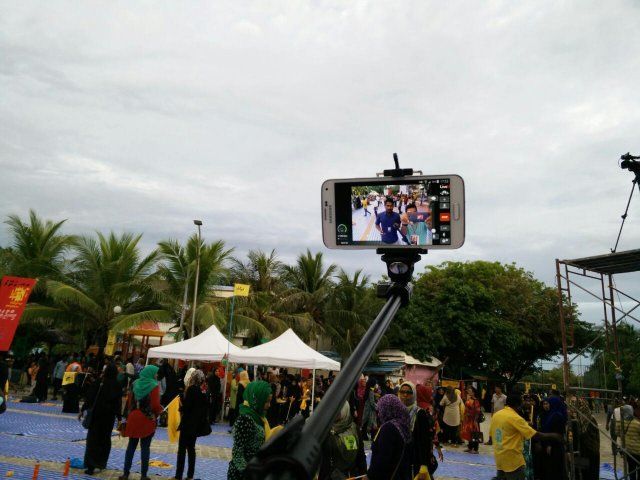 The Maldivian protests weren't LiveU's first use in the region's political sphere. In May 2014 LiveU was selected by several Indian broadcasters to cover their general election. The mobility of LiveU's cellular units allowed these broadcasters to freely travel across the 1.2 million sq mile country and capture press conferences and ad-hoc interviews. Later, in February 2015, several Sri Lankan broadcasters also chose LiveU for coverage of their general elections. By employing the LU500 in conjunction with the LU-Smart, stations like Derana TV and Hiru TV were able to provide nonstop nationwide live coverage.
While added mobility is often at the forefront of the decision to employ cellular broadcasting technology, LiveU's units are flexible in more ways than one. Anyone living in the UK during May 2015 will have seen Sky News' coverage of the recent general election. While other major UK broadcasters were stuck at only a few constituency counts, Sky News used LiveU as a cost-effective solution to bring more live counts, on more platforms than anyone else.

In short, Sky rented 134 LiveU units in addition to their own fleet, to broadcast from 150 different constituencies across the UK, simultaneously. All 150 live feeds were then streamed to a giant screen in the Sky News studio as well as to the Sky News website and YouTube Live channel. Read our full case study about this huge undertaking here.
More recently, cost-effectiveness and mobility came together for Political Revolution TV, a politically geared online broadcaster, for their coverage of the Democracy Spring March on Washington DC. The Democracy Spring effort started in Philadelphia, where thousands began a 140-mile walk to the U.S. Capitol to "demand Congress take immediate action to end the corruption of big money in our politics and ensure free and fair elections in which every American has an equal voice." For their coverage of this event, Political Revolution TV used the new cost-effective LiveU Solo, enabling them to seamlessly stream from their camera through Switchboard Live and to their YouTube channel with minimal setup.
We are now working closely with our clients for tailor-made solutions ahead of the UK Referendum in which UK residents decided whether or not to remain in the EU or not. As polls seem, at this point, to be split down the middle, clients want to ensure their views will have highly comprehensive coverage allowing them to be the first to know the results of the referendum.
States-side we continue to offer our American and international clients special services for the coverage of the U.S Presidential race. We are working tirelessly to come up with the best solutions for our clients who want to provide all-inclusive coverage from these events culminating in the actual day on which American citizens casting their vote at the polling station.