LiveU Launches Affordable Global IP Satellite Service to Complement Cellular IP Connectivity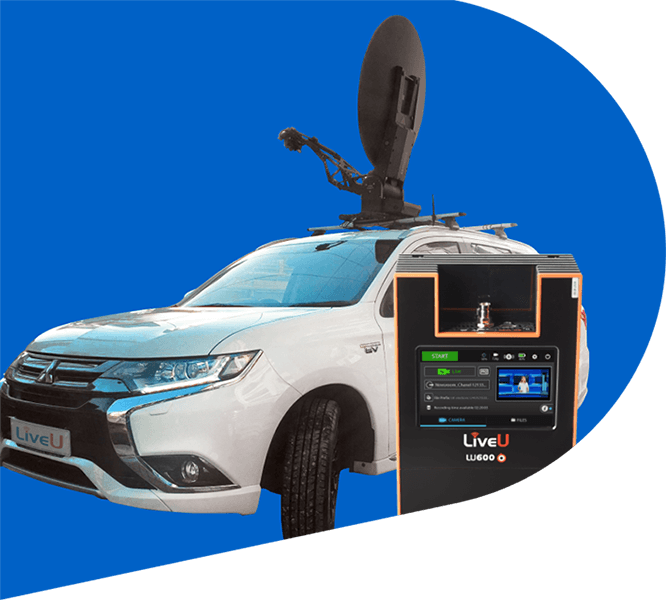 LiveU has made it easier and more cost-effective for customers to cover news and events live wherever they are in the world by combining LiveU's HEVC bonding technology with Satellite connectivity service. This now gives customers "the best of both worlds" – a robust hybrid live solution that fits their production needs, streamlines the workflow, and simplifies the billing structure. With LiveU, broadcasters don't need to choose between cellular bonding and Satellite to ensure a reliable, high-quality feed every time – it simply happens automatically based on the lowest cost available bandwidth.
Customers of LiveU's award-winning LU600 can now, not only broadcast double the number of hours with the same data using the HEVC encoding, but also have the ability to include a Satellite connection (fly away or drive away options) whenever it is desired, without needing a reservation or getting multiple bills from different providers*. "Our bundled solution will change the game for our customers by removing any bandwidth concern, simplifying the workflow, and ending billing confusion for data," said Mike Savello, LiveU VP of Sales (Americas).
Benefits of LiveU's Hybrid Cellular Satellite Solution:
Cost-effective: Automatic least-cost routing – use Satellite only when needed
Streamlined workflow: IP satellite workflow rather than traditional ASI encoder
Data distribution: Pool your data across all vehicles and Satellite terminals
Reliability: Non-contended, dedicated 2Mbps uplink/2Mbps return on the satellite transmission
Make decision on the fly: No streaming reservation required
Simplified pricing structure: All-in-one data plan in one simple bill
Get the gear globally: LiveU sales teams, resellers, and distributors around the world can supply the gear you need to take advantage of this new offering
Visit LiveU at NAB 2018 Booth #C2617 to learn more about this solution, and all our other technology innovations, or visit get.liveu.tv to get more information.
*This specific offer is currently available in the US.
About LiveU
LiveU is driving the live video revolution, providing live video streaming for TV, mobile, online and social media. Let your audience become part of your story with high-quality and flawless live video, transmitted from anywhere in the world, through the use of our patented bonding and video transport technology. LiveU creates a consistent bandwidth and a reliable connection so you can acquire, manage and distribute high quality remote live broadcasts over IP. Our broad portfolio of products sets the industry standard for live video production. From backpacks to smartphones, and satellite/cellular hybrid to external antenna solutions, LiveU offers a complete range of devices for live video coverage anytime, anywhere. In addition, LiveU offers extensive cloud-based management and video distribution solutions. With over 3,000 customers in 100+ countries, LiveU's technology is the solution of choice for global broadcasters, online media, news agencies and social media. For more information, visit www.liveu.tv, or follow us on Twitter, Facebook, YouTube, LinkedIn or Instagram.