"Counter Talk Live with Gabriele Corcos" from SXSW Features VIP Access to Live Interviews, Parties & Innovative Tech, Presented by LiveU
"Counter Talk Live with Gabriele Corcos" from SXSW Features VIP Access to Live Interviews, Parties & Innovative Tech Presented by LiveU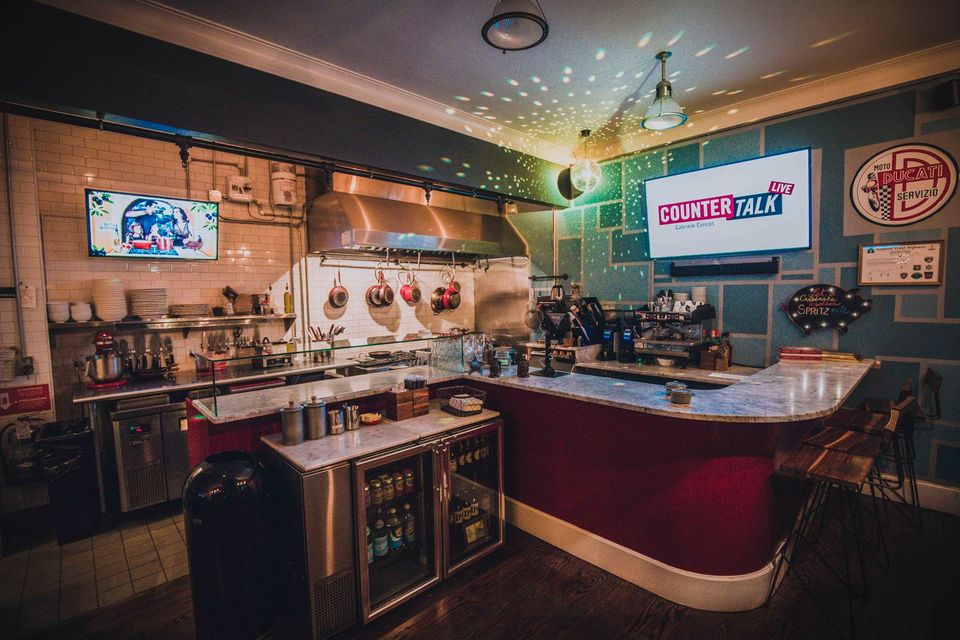 Gabriele Corcos, star of "Extra Virgin" gives viewers a 360-degree look at SXSW & demonstrates VR's impact on the culinary arts

"Counter Talk Live," an interactive online live show created by Gabriele Corcos, James Beard award-winning host and producer of The Cooking Channel's "Extra Virgin," is bringing a new flavor to SXSW. Counter Talk Live is a self-produced weekly live stream entertainment show featuring tastemakers in food, music, and technology. With a mix of special live interviews at SXSW, VIP access to events, cutting-edge technology demos, and an exclusive party from a secret location, viewers will feel like they are part of the action in Austin.

"After a decade in the broadcast industry, I find it critical to align myself with technology partners to create the next wave in entertainment," notes Corcos. "Sling gives me the freedom to self-broadcast high-quality, multi-camera live stream shows on social media. LiveU lets me use the Sling system unchained from the restraints of our Brooklyn hub's Wi-Fi connection. The combination acts as my personal rocket to total freedom!"

The Counter Talk Live crew is collaborating with live video leaders, Sling and LiveU to bring this immersive experience to life. The crew is able to drive the high-quality live production to social media using a SlingStudio professional multi-camera production app and LiveU Solo. Viewers can tune in to Counter Talk Live's Facebook and YouTube channels on Tuesday, March 13, and Wednesday, March 14.

"Gabriele Corcos is no stranger to the broadcast world. He is used to producing high-quality content and his viewers and fans have come to expect that level of production," said Claudia Barbiero, LiveU VP of Marketing. "What we are excited to see is how Gabriele and his team will be able to take Counter Talk Live to SXSW and now produce a high-quality, dynamic live show from anywhere, without needing a huge crew or investment."

Live Panel Discussion
Heading up the SXSW Panel on March 14, VR/AR for Cuisine, Content, and Commerce, Corcos will share his VR experiences and explain how it can expand to food and retail markets with special guests, Gordon Meyer, VP of Marketing at Lampix and Cathy Hackl, author, producer, and marketing futurist. SlingStudio combined with LiveU Solo will give online viewers an opportunity to watch the panel live and hear how VR/AR immersive experiences and XReality impact food, business, and content directly from industry experts. After the panel discussion, his fellow panelists will join Corcos on the Counter Talk Live Show to reflect on their discussions and what's next for VR/AR.

Book Signing & Exclusive SXSW Party
Corcos will host a book signing at the Austin Convention Center from 1:00 p.m. to 2:00 p.m. CT, where his crew will live stream the event. What's SXSW without a little fun? The Counter Talk Live SXSW Party, presented by LiveU and Sling, will feature interviews with guests, a behind-the-scenes look at Gabriele's live streaming toolkit, and performances by popular Austin-based alternative rock band, Chill Russell and Brooklyn-based rock band, The National Reserve. Online viewers will get to enjoy the party from the comfort of their own homes and interact with the host and guests.

The SXSW live stream will be available at www.facebook.com/countertalklive and www.youtube.com/countertalklive.